About the Artist
Its just a story , I used to do many art shows all over Florida, it was fun, I no longer do art shows and seem to keep everything together here on the website, I have pretty much become a recluse of my own doing and never did join the art co-ops, I stay independent and always have liked doing my own thing, being a self taught artist I try not to look at other peoples art because it mess up my next brush stroke, so I avoid it all, I like it this way a lot, everything here in the studio is in its place, the setting is just right, there is always a new canvas being created into an oil painting on the easel, I will get them uploaded to the website often, thank you.
The story goes on .
Back in the days when dinosaurs roamed the earth, when the earth was plush with its beauty, cavemen, my ancestors made paint brushes with the whiskers of a T-REX and created vast paintings in their cave dwellings and some can still be seen to this day, seems as though these prehistoric skills had passed on up from generations to generations, created as a gift from the mighty creator and for some reason passed on up to me.
Born in the year of 1958, a heir to a generation of artists dating back into the 1800s and beyond, Born in early November a small hospital in Syracuse New York, where the winters are cold, long and stormy. I do not remember much of my life in the suburb called Liverpool New York, I did a few drawings and my mother gave me a full set of Grumbacher oil paint. During one of the snow blizzards of 1976, I decided to head south, Packing up a few belongings into an old backpack, I hitched a ride, beginning an unknown journey that somehow ended me up on Miami Beach Florida living in the abandoned cabanas of the Seagull hotel on 21st street beach, Those tropical breezes captured me, the swaying of the coconut palms and the warm emerald waters of the Atlantic Ocean, a sunrise every morning, I was 17 years young, It was the Miami area that I dwelt for the next 25 years.
I had learned the trade of finishing carpentry while remodeling condos that lined the Miami beach area, My work included numerous projects all over South Florida, I found the real Florida when I started Kayak camping in 1996, The beauty of Florida was very inspiring, I wanted to keep this image with me and to show people where I was going and what I was seeing , with this in mind I began to put these images down on canvas, I painted for my own enjoyment, I had no idea of this was some sort of hidden talent, many have said it is a gift from God, others said for me to put the hammer down and to protect my hands, keep painting scenes of Florida, from Key West to the barrier Islands of Cape Romano, kayaking in 40 knot winds to get to Cayo Costa along the southern west coast, into the Florida Everglades and all the way up the spine of the Florida peninsula and into the Panhandle. Okay, so they say it is a talent giving to me as a gift from the creator and will go along with it, inspired I continue to paint in this small part of the world, Florida is what I like to paint, here you will find it with oil on canvas, www.paintingsofflorida.com Today I seek out what is left of the secret places in which no one has set foot on, sand drifted dunes without footsteps, it is becoming difficult to find, the inspiration is to paint what one would think of as the other Florida, perhaps limestone out cropping's that line the banks of a pristine river and the hopes a 10 foot sturgeon will jump over my kayak in the middle of the Suwannee river.
Have you ever seen a cool mist rising on the river in a sunlit dawn ? this is what I am looking for, so with that and my short story for you my friends, all is well here in the woods with the wildlife, a few pets cats that walk in peace with the deer, along with all the other critters of the forest, thank you,
Sincerely John Sterpe
Updated 3/13/2021
On the way to River Rise 2014
60" X 96"
Sitting on the floor working on the bottom of a large oil painting
.
Ginnie Springs 2013
Hello, this is now the year of 2021 and I am still painting scenes of Florida, I like saying I am an underground artist because I do not follow the standards of the art world, I have an individual approach of dealing with painting and it is fun, you will not find John Sterpe oil paintings in art galleries or candy stores that call themselves art galleries , most "galleries" will rise the price of art up 40%, and more, so I stay away, when you purchase a beautiful oil painting from me, you are much more than a customer, you become the curator and my friend that will take care of the painting that somehow has caught your eye and I created it for you.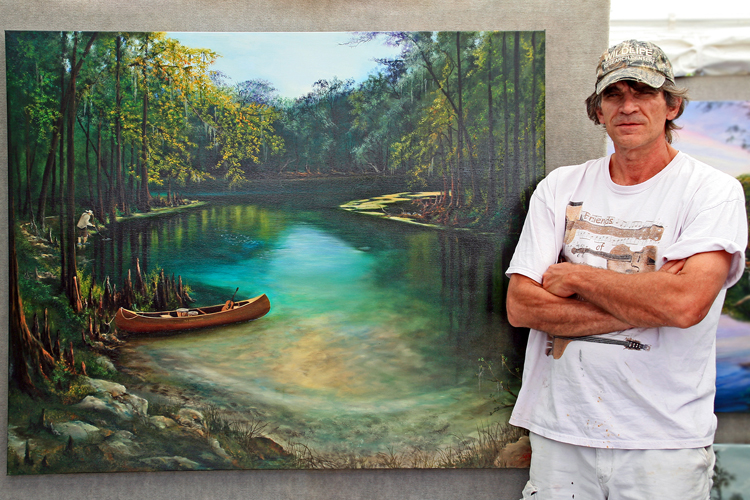 2011 Gainesville Florida Thornebrook village art show
Paintings of Florida home page What's available What's on the easel
Floridartist@aol.com
Est.

1996

-2021 Oil paintings of Florida by John Sterpe all rights reserved �